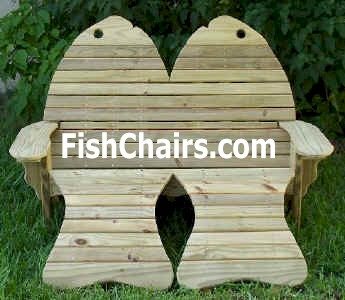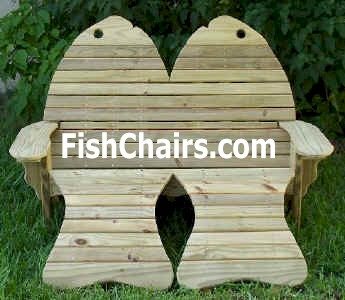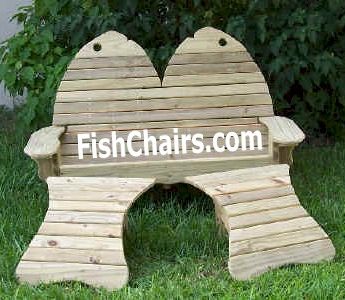 I have shown you my Adirondack fish chairs, and I have shown you my Adirondack classic line of chairs. Now it's time for you to see the benches, the tables and anything else that I offer. The fish chair bench is one of my greatest designs. I also have a folding chair that you can put three together and take up practically no room. Down the line there'll be other things but at this point this is what I have to offer outside of my chairs.
The Adirondack bench is absolutely beautiful. Nowhere will you see something like this and if you have, then it's a direct copy of mine. These benches can be made in the classic line or the shape of the fish chairs. The heads on the fish will be facing each other. The drum fish bench is the most requested and you are sure to love it if you order it. Down the line I may have other styles but for now please enjoy what I do offer.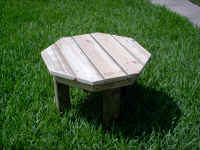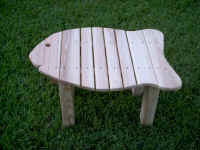 The Adirondack tables are built very strong and are made to last for many years. The legs are actual 4 x 4's and the tables weigh upwards of 30 pounds. You'll have a choice of design of tables but most tables purchased follow the design of the chair set that's ordered. The tables are actually shipped out in five pieces. The four legs are off the table and the top is fully assembled. Each leg gets two bolts and they go together within 10 minutes.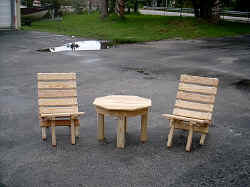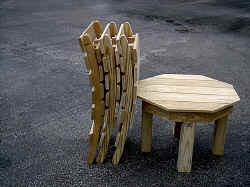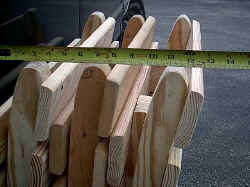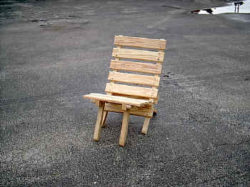 The folding chairs are unlike anything you have seen before. They follow a curvature that is very comfortable on the back and there're no arms to get in one's way. These chairs are perfect for the RV traveler, the regular camper, and the musician strumming away at his guitar with no interference.
These chairs are not easy to build and are sometimes called the banana chair. No two chairs are alike because each curve is hand-cut and custom-built. Once again these chairs are made to last for many many years, one of mine is at least 15 years old.
As you can see from everything on FishChairs.com the choice and style is completely up to you. We don't have unsatisfied customers and a lot of our customers are referral or repeat customers. There's no better testament to the quality of a product.
There's something about FishChairs.com that sets us aside from everyone else, Our Quality Doesn't Cost, It Pays.
Thank you for stopping by.
Fish chairs.com
Frequently Asked Questions
What kind of wood are the fish chairs chairs made from?
Pressure-treated Southern yellow pine. At this time, this is your only option.
You say your chairs are big, how BIG are they?
Chair Dimensions: 36" Deep x 36" Wide x 39" High
Seat Inset: 18" Deep x 24" Wide
Seat Height: 15 inches
Weight Capacity: 350 lbs
Wood Type: Southern Yellow Pine

How strong are these Adirondack Chairs?
The chairs are made from full 3/4" thick wood, and the legs on our chairs are made from stock 2" x 6" lumber. This makes the true thickness of our legs to be a full 1 and 1/2 inches thick. Comparable to the other adirondack chairs online, there is no comparison.
What kind of hardware is used on the fish chairs?
Unless otherwise requested, galvanized coated hardware is used. As an up-charge stainless steel hardware is available.
How long before I can expect delivery of my fish chairs?
The chairs are built to order. You can expect delivery within 1 week. Larger orders will take longer.
How are the chairs delivered?
Delivery is free within 25 miles of Daytona Beach, Florida. How many chairs you order, greatly affects how they will be delivered. If you live outside our delivery area, we can help you arrange shipping to your destination. Give us a call @ 315-601-4967, we'll be happy to help you make arrangements.