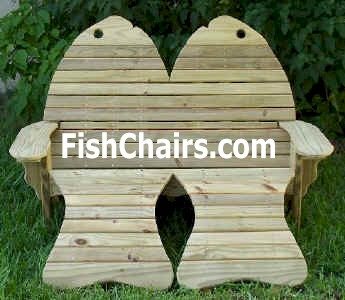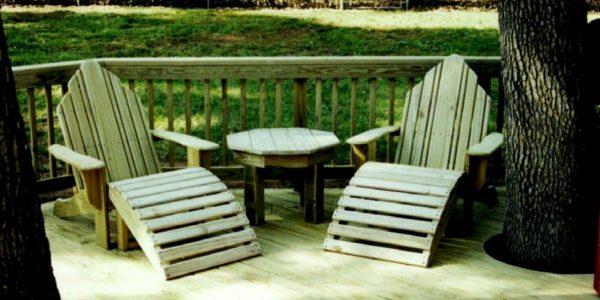 The classic line of Adirondack chairs is what started me in this business. My 5/and nine slat chairs are all over the United States and into Alaska. Whether it be a bonfire setting or ski lodge or a multi-million-dollar deck, my classic line of chairs make a great accent.
The classic line is sold with and without an ottoman. They look great with the ottomans slid up to them and they look just as good by themselves. Without the ottoman the chair becomes a bit more affordable. Especially in lot orders, these chairs can be reduced in price to where multiple chair orders become more common.
I started this line of chairs around 2002. They sell well and last for years. They have more of a universal look for surroundings and can be stained or painted at any time. There isn't as many curves and groves to deal with which makes changing the color less of a hassle.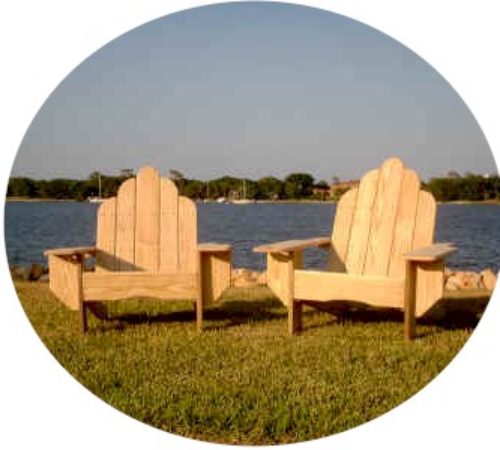 The 5 slat chair is more apt to be placed around the bonfire or in a backyard setting. Of all the chairs on my website these are the most affordable but are just as strong and as durable as the most expensive choices. Nothing is lost on the integrity or quality just because the price is lower. The price is lower because there is less material in these chairs so they take less time to build. If you're needing a wholesale lot, this is the chair of choice.
As with all my chairs, this Adirondack chair can be ordered with or without an ottoman. This is a very common chair for the family that spends a lot of time sitting outdoors.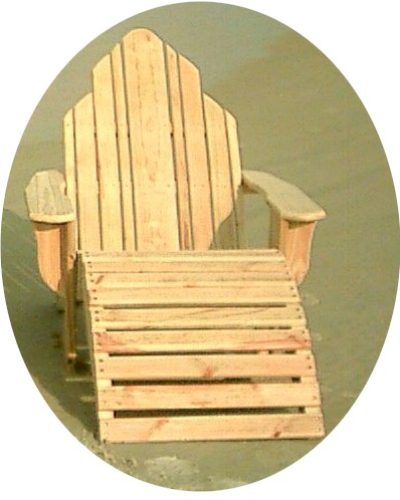 The 9 slat chair is a more elegant Adirondack chair and looks better in a luxury setting. Botanical gardens and wrought iron decks primarily end-up as the destination spot for this beautiful Adirondack chair. There's more detail and work involved in this chair so it's the more expensive chair in my classic line.
Being a staple of my business, I have made and sold hundreds of this style chair over the last 15 years. At any time after receiving it you are welcome to change the color to anything that you desire. They also look great weathering just the way they are.
If it's the classic line of chairs you're after, then I have what you are looking for. My chairs are built-to-last and for you to enjoy for many many years.
Thank you for stopping by.
FishChairs.com
Frequently Asked Questions
What kind of wood are the fish chairs chairs made from?
Pressure-treated Southern yellow pine. At this time, this is your only option.
You say your chairs are big, how BIG are they?
Chair Dimensions: 36" Deep x 36" Wide x 39" High
Seat Inset: 18" Deep x 24" Wide
Seat Height: 15 inches
Weight Capacity: 350 lbs
Wood Type: Southern Yellow Pine

How strong are these Adirondack Chairs?
The chairs are made from full 3/4" thick wood, and the legs on our chairs are made from stock 2" x 6" lumber. This makes the true thickness of our legs to be a full 1 and 1/2 inches thick. Comparable to the other adirondack chairs online, there is no comparison.
What kind of hardware is used on the fish chairs?
Unless otherwise requested, galvanized coated hardware is used. As an up-charge stainless steel hardware is available.
How long before I can expect delivery of my fish chairs?
The chairs are built to order. You can expect delivery within 1 week. Larger orders will take longer.
How are the chairs delivered?
Delivery is free within 25 miles of Daytona Beach, Florida. How many chairs you order, greatly affects how they will be delivered. If you live outside our delivery area, we can help you arrange shipping to your destination. Give us a call @ 315-601-4967, we'll be happy to help you make arrangements.