Welcome to FishChairs.com! We have been building these beautiful chairs for over 15 years now and our classic line has been around a lot longer than that!
Our Chairs Are:
Built To Last!
Big and Beautiful!
Come in all shapes and sizes!
Made With Unsurpassed Quality!
VERY Child Friendly Around ALL Edges
Detailed, Yet Wood Property Conscience
Original and Elegant Enough For ANYWHERE!
100% Hand Made In The United States Of America!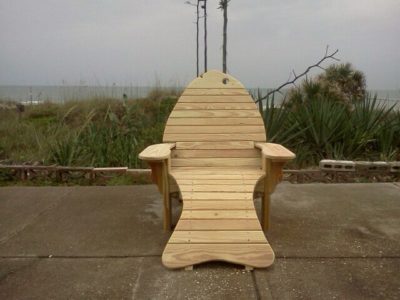 Frequently Asked Questions
What kind of wood are the fish chairs chairs made from?
Pressure-treated Southern yellow pine. At this time, this is your only option.
You say your chairs are big, how BIG are they?
Chair Dimensions: 36" Deep x 36" Wide x 39" High
Seat Inset: 18" Deep x 24" Wide
Seat Height: 15 inches
Weight Capacity: 350 lbs
Wood Type: Southern Yellow Pine

How strong are these Adirondack Chairs?
The chairs are made from full 3/4" thick wood, and the legs on our chairs are made from stock 2" x 6" lumber. This makes the true thickness of our legs to be a full 1 and 1/2 inches thick. Comparable to the other adirondack chairs online, there is no comparison.
What kind of hardware is used on the fish chairs?
Unless otherwise requested, galvanized coated hardware is used. As an up-charge stainless steel hardware is available.
How long before I can expect delivery of my fish chairs?
The chairs are built to order. You can expect delivery within 1 week. Larger orders will take longer.
How are the chairs delivered?
Delivery is free within 25 miles of Daytona Beach, Florida. How many chairs you order, greatly affects how they will be delivered. If you live outside our delivery area, we can help you arrange shipping to your destination. Give us a call @ 315-601-4967, we'll be happy to help you make arrangements.