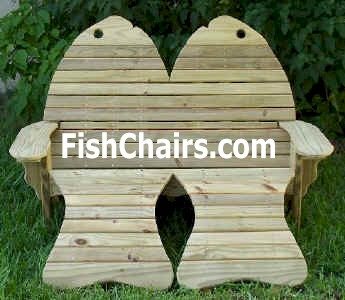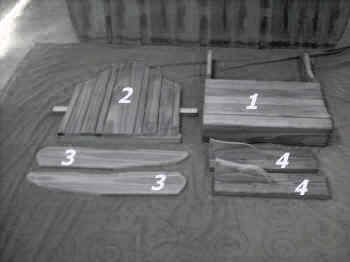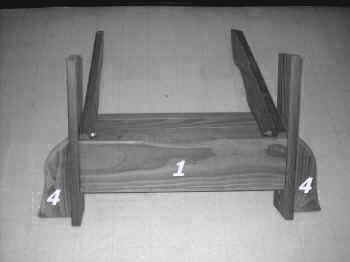 Putting Your Chair Together
You will need a philips head screwdriver or #2 square tip driver if you order stainless hardware, a 7/16 box wrench, and a 9/16 box wrench and a small hammer. A combination wrench will work instead of these last two tools
DO NOT OVER TIGHTEN ANY OF THE SCREWS
Your chair is going to arrive with 6 parts and the hardware to assemble them. 10 bolts and 8 screws later and you'll be finished.
Parts:
1 - Seat ( #1 in picture)
1 - Back ( #2 in picture)
2 - Arms ( #3 in picture)
2 - Legs ( #4 in picture)
Hardware:
4 - 3 1/2" x 5/16ths" Bolts and Nuts for front legs to seat
4 - 3" x 1/4" Bolts and Nuts for armrests to back
2 - 3" x 5/16ths" Lag Bolts for bottom of back to seat
8 - Wood Screws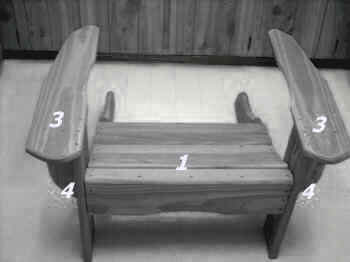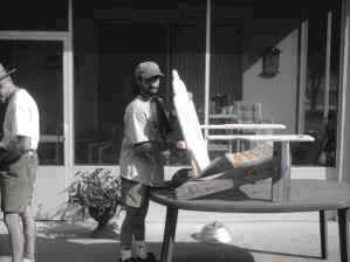 Assemble the 2 legs ( #4 ) to the front of the seat ( #1 ) by putting the 4 large bolts thru the front leg and into the seat. A 9/16" wrench, socket or adjustable wrench will tighten these bolts. You may need to tap them in with a small hammer.
The front leg bolts should not be fully tightened until the
assembly is complete, then tip the chair over and snug them down fairly well.
* DO NOT TIGHTEN THESE BOLTS ALL THE WAY UNTIL CHAIR IS FULLY ASSEMBLED *
Assemble the arms ( #3 ) to the legs ( #4 ) using the 8 wood screws given. The back ( #2 ) will slide below the arms paddles and into the pre-drilled holes on the legs. ( #4 ) ( 3" x 1/4" ) bolts with nuts will attach the arm paddles to the back. (2) 5/16" lag bolts with washers will screw the back down to the legs.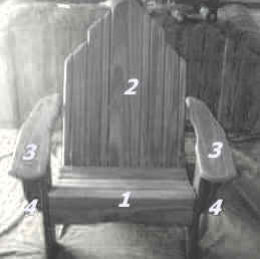 The bottom bolts for the back that attach the back to the seat legs are the full threaded lag bolts that do not take a nut. Start these bolts in the holes on the back bottom before slipping the back into the waiting chair.
Put these bolts in with a 9/16 wrench and do not tighten them too much, just snug them down. Please have patience, these bolts have been in the holes already and are long for a reason.
DO NOT OVER TIGHTEN THEM!!
The last picture to the right is how your chair should look.
Here is an assembly video for the Fish Chairs.
Frequently Asked Questions
What kind of wood are the fish chairs chairs made from?
Pressure-treated Southern yellow pine. At this time, this is your only option.
You say your chairs are big, how BIG are they?
Chair Dimensions: 36" Deep x 36" Wide x 39" High
Seat Inset: 18" Deep x 24" Wide
Seat Height: 15 inches
Weight Capacity: 350 lbs
Wood Type: Southern Yellow Pine

How strong are these Adirondack Chairs?
The chairs are made from full 3/4" thick wood, and the legs on our chairs are made from stock 2" x 6" lumber. This makes the true thickness of our legs to be a full 1 and 1/2 inches thick. Comparable to the other adirondack chairs online, there is no comparison.
What kind of hardware is used on the fish chairs?
Unless otherwise requested, galvanized coated hardware is used. As an up-charge stainless steel hardware is available.
How long before I can expect delivery of my fish chairs?
The chairs are built to order. You can expect delivery within 1 week. Larger orders will take longer.
How are the chairs delivered?
Delivery is free within 25 miles of Daytona Beach, Florida. How many chairs you order, greatly affects how they will be delivered. If you live outside our delivery area, we can help you arrange shipping to your destination. Give us a call @ 315-601-4967, we'll be happy to help you make arrangements.