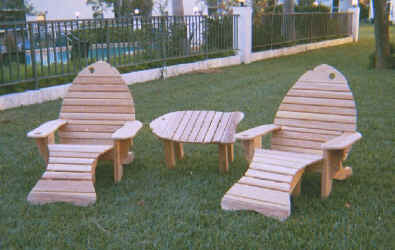 We just love to offer you things that are completely different than what else is out there. This 5 piece Adirondack Fish Chair Set can be described in two words, JAW DROPPER.
Nowhere online do we think you can find something like this, let alone for what we ask for it. This is literally second to none when it comes to original and quality craftsmanship. FishChairs.com is part of us, and we're part of them and together we compliment each other, and together we offer you something this exquisite.
You can order this set in 3 different styles. Our biggest seller is the Drum Fish. We also offer both Dolphin and Shark Shaped Fish Chairs. Please take a minute and see these beautiful works of art. They're are nothing short of conversation pieces that become comfortable furniture in the process. They're great for amusement parks, hotels, resorts, yacht clubs, marinas and the everyday fish loving type atmosphere.
When ordering, your choice of table is going to be what you chose for the chair style. Also, the heads of the fish will be facing each other, this will give the two fish the image of looking at one another. The Five Pieces Are Beautiful Together.
This set of 5 Pieces, 2 Fish Chairs, 2 Fish Tail Ottomans, and 1 Fish Table will do nothing short of amaze you. We receive wonderful compliments on the set and are confident that your going to be just as happy.