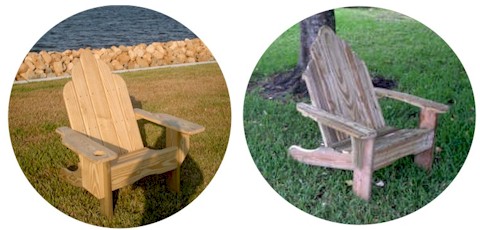 Our Classic Line of the adirondack chair outshines many other chairs when it comes to quality and craftsmanship. Our chairs are made from southern yellow pine and are built to withstand the toughest of elements. Both human and nature driven. Adirondack chairs were designed to last for years and years. Our chairs come with the guarantee that if they don't, we'll replace what doesn't for free.
For as long as you own your chair, if a part breaks, warps or simply doesn't meet to your satisfactions send the part back. We'll duplicate it and send it right back to you. Free of charge! All you have to do is pay shipping to us, and we'll take care of the rest!
We build our chairs STRONG DURABLE and most of all, we build them TO LAST. You'll see over and over again across our websites, we strive for quality, we strive for perfection, we settle for nothing less. We are "Craftsman" and "Artists" with wood, we are that in every aspect of the words!
Feel assured that when dealing with us, your dealing with a company that cares more about you being satisfied than we are about making the money that comes with it. Our Classic Adirondack Chair line is sure to please you as much as it has the many that bought from us in the past and are still buying from us today.
Here are the two back styles we offer on our classic chairs
click photo to enlarge
click photo to enlarge

These are very detailed and very big pictures, they may take a minute to load, there is also another row of screws that we put above the upper row. This makes 4 rows of screw holding those slats straight. More is always better when it comes to outdoor furniture. We're out to give you more, even if it means less on our end. It's part of our formula for success, so far it's working just fine!